I love a Twitter wall!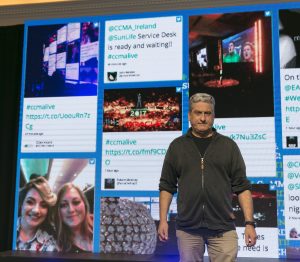 It has so many uses! Twitter is great for seeing what people actually think, for getting the feedback of your audience, whether at the event or following the hashtag online.
It can also be fun to feed this directly to a host, on a big screen over his guest's shoulder or on his iPad.  The Public's humour can be greater than any scriptwriter!  If the guest gets to see the tweets, it can be very funny too!
At an event, people love to see their images and tweets on a goat screen, maybe a giant twitter wall!  The quality and humour definitely increases.
My success in the past has been to start the engagement earlier in the week, certainly on the day of the event and to capture the mood on the way to an event.  However, this can all be sone in a window n a website too, having the twitter wall live on your website.
It is a great way to capture a vote on a topic being discussed live.
A word of caution.  The twitterwall MUST be moderated!  You cannot have severely negative feedback, abuse or anything illegal on it.  Oh, the power!!!